---
When:
SUNDAY, May 6, 2007
Where:
State Theater, Ithaca
Time:
7:30 pm
Contact:
Franck Vidal 279-8793 or Elizabeth Ellis 339-9525
Camargue Productions would like to thank our sponsors: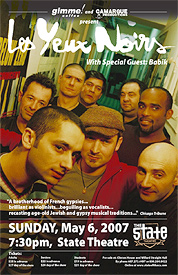 The internationally acclaimed French ensemble, Les Yeux Noirs, will appear at the State Theatre in Ithaca, New York, for the final performance of their 2007 North American tour.
Founded more than ten years ago by the classically trained violin duo Eric and Oliver Slabiak, the group consists of Constantin Bitica on accordion, Francois Perchat on cello and violincello, Pascal Rondeau on electric guitar and bass, Aidje Tafial on percussion, and Marian Miu on cymbalon (a large hammered dulcimer).
Camargue Productions and Gimme! Coffee are proud to present Les Yeux Noirs. Tickets will move fast, buy now.
About the Music
Their music draws heavily upon the Gypsy themes from Romania, Hungary, Russia and Armenia with the added element of Klezmer and Manouche, French gypsy jazz.
Recent release: tChorba, which was released in 2006. "Named for a Turkish soup that doesn't skimp on savory ingredients, the disc is tasty, too, mixing deft exuberance and airy melancholy." - Global Rhythm
Live Performance Recordings
Press Reviews
"With musical influences from France, Romania, Hungary, Russia and Armenia, Les Yeux Noirs (The Black Eyes) have attracted quite a following in the world music scene" - Tuscan Citizen
"Led by a pair of virtuosic, violin-playing brothers, Eric and Olivier Slabiak, the group's presentation lured the audience into all-join-in musical participation, a colorful coda to an immensely entertaining weekend." - Los Angeles Times
"They can play faster than fast yet have the facility to be wildly playful or deeply serious" - Huffington Press
Tickets
Cost:
General admission: $25 in advance, $27 at the door
Seniors: $22 in advance, $24 at the door
Students: $19 in advance, $21 at the door
In person:
at Clinton House on the corner of Cayuga and Seneca Streets, and at Willard Straight Hall on the Cornell Campus
By Phone:
(607)273-4497 or (800)284-8422
Online:
http://purchase.tickets.com/buy/TicketPurchase?organ_val=3735&pid=5978375